Experienced Residential Roofers Protecting Chicagoland Homes
If your home needs a new roof, Great Lakes Roofing and Siding can help. Our skilled residential roofers have been serving Chicagoland homeowners for the past 15 years, and we'd love to bring that experience to your project. Reach out and let us install a durable and attractive new roof on your home!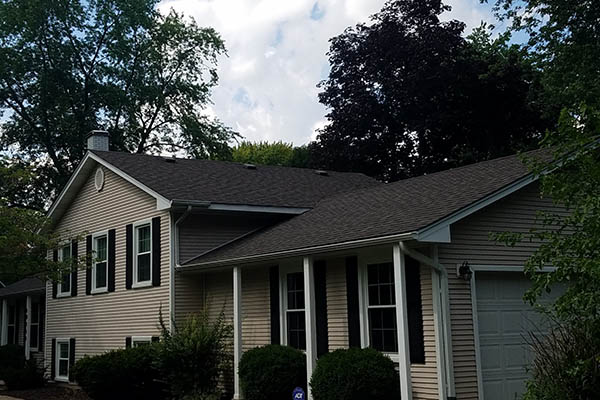 Signs It's Time for Roof Replacement
A professionally installed roof can give your home reliable protection for decades, but once its useful life has ended, the most economical and efficient solution is a roof replacement. There are common signs you can look for to determine if your roof needs to be replaced, including:
Ongoing leaks & water damage
Worn shingles
Missing or broken shingles
Loose materials around vents & chimneys
Mold or rot
If you suspect that your roof needs to be replaced, Great Lakes Roofing and Siding
can complete a detailed inspection. Keeping customers protected is always our goal, and we'll leave nothing to chance as we determine the condition of your roof.
What to Expect
If it is time for a roof replacement, our residential roofers can discuss all your options. From materials and timelines to estimates and financing, we can guide you through every step of the process. When it's time to start the job, we'll carefully prepare the work site, remove old roofing materials and expertly install your new roof. And when we're done, our professionals will clean up the mess completely. From our initial consultation to the final inspection, Great Lakes Roofing and Siding will make your project a priority.
A new roof can add visual appeal, value and long-lasting security to your home, but some homeowners fear the idea of a roof replacement. Let us put your mind at ease. Great Lakes Roofing and Siding wants to make your roofing project as hassle-free as possible, and we'll treat you and your home with respect and care. Our residential roofers want to give you a second-to-none customer experience, so reach out and take the first step toward your new roof.
Request a Free Estimate Today
To schedule a free roof replacement estimate, give Great Lakes Roofing and Siding a call at (877) 938-9318 or contact us online. Our friendly residential roofers are here for you, so reach out to learn more.