Consider a Cost-Effective Commercial Roof Coating for Your Chicagoland Facility
Industrial and commercial roof coatings are booming in popularity because of their eco-friendly and cost-effective benefits. When Great Lakes Roofing and Siding applies a commercial roof coating, we can help you to avoid a roof tear-off and disposal. That's an incredibly green practice that saves your business a lot of time and money. In fact, a commercial roof coating usually costs about 50% less than a complete re-roofing project!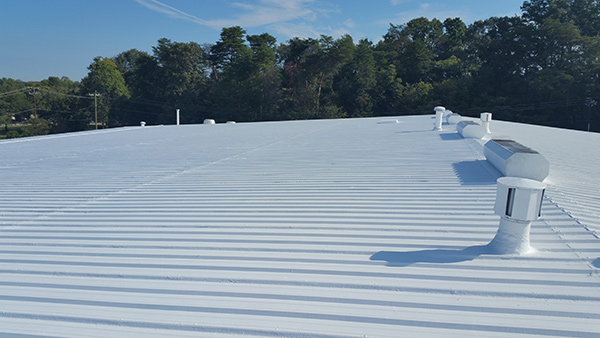 Versatile Commercial Roof Coatings
A commercial roof coating application is quick, easy and affordable. And because a roof coating will last the life of the building, it's a low-maintenance way to keep your business safe and protected. Great Lakes Roofing and Siding installs a variety of commercial roof coatings, including:
Acrylic. An acrylic commercial roof coating offers long-lasting performance, superior adhesion and a great return on investment. Acrylic also reflects sunlight and resists dirt and dust, which can help your business save on maintenance and energy costs.
Silicone. A silicone commercial roof coating is waterproof, which makes it reliable protection against Midwest rain, snow and ice. Silicone also creates a smooth and seamless surface to help prevent mold and dirt from accumulating on your roof.
Liquid rubber. Liquid rubber is waterproof, rust-resistant and heat-reflecting, making it an affordable and efficient material to extend the life of your commercial roof.
Great Lakes Roofing and Siding applies cost-saving, energy-efficient commercial roof coatings to all types of industrial buildings. We'd love to protect your roof and wallet with our budget-friendly roof coatings, so reach out and request your estimate.
Great Lakes Roofing and Siding is pleased to partner with Triton for commercial and industrial roof coatings. Watch this video to learn more!
Request an Estimate Today
If you're interested in restoring your building with a commercial roof coating, please call Great Lakes Roofing and Siding at (877) 938-9318 or contact us online. Our commercial roofing specialists are ready to plan an affordable and sustainable solution.